Happy WIP Wednesday, everyone! Since it's Wednesday, of course I'm going to show you what I'm working on… but, since it's the start of 2012, I thought I'd add some info about my favorite kinds of WIPS- the projects I'm dreaming about! So, after the usual stuff, scroll down for a peek of some of my knitting & crochet goals and dreams!
My current project
I'm still plugging along on my Still Light Tunic. I've finished the body (new since last week!) and one sleeve, and am working on knitting the second one! After the sleeves, I'll just need to finish knitting the inside of the pockets (those funny parts around the tummy), then I'll be finished.


It's a great project to bring along to the cricket (doesn't take much concentration, but is very time intensive!), and I can't wait to wear it!
note: for those of you uninitiated into the world of cricket… a match can take up to 5 days (I'm attending a match this week), so there's plenty of knitting time!
Knitting Goal: brioche knitting
Brioche is a technique for knitting that creates super-cool looking ribbing… and I've been wanting to try it for ages.

image from JeJune's Place's Blog: beautiful knitting!
In particular, the new book, Knitting Brioche-Stitch Socks
, has pushed my curiosity over the edge- and brioche knitting is now officially on my '2012 Goals' list! I'm also eyeing the book Knitting Brioche
… perhaps something to spend my birthday gift certificate on?
Crochet Goal: becoming fluent in charts
I'm a huge fan of Japanese amigurumi design, which are frequently written using crochet charts. So, once of my goals for this year is to become more fluent in reading charts… and who knows? Maybe I'll start designing using charts, as well!
Crafting Goal: learn to needle felt
This year, I interviewed Kit Lane, who is an amazing needle felting artist.


I've become inspired… I love cute things- maybe I should learn to needle felt cute things, too! Of course, I probably won't be the next Kit Lane… but it looks fun!
I'm thinking of starting out with a needle felting kit from WoolBuddy! So cute!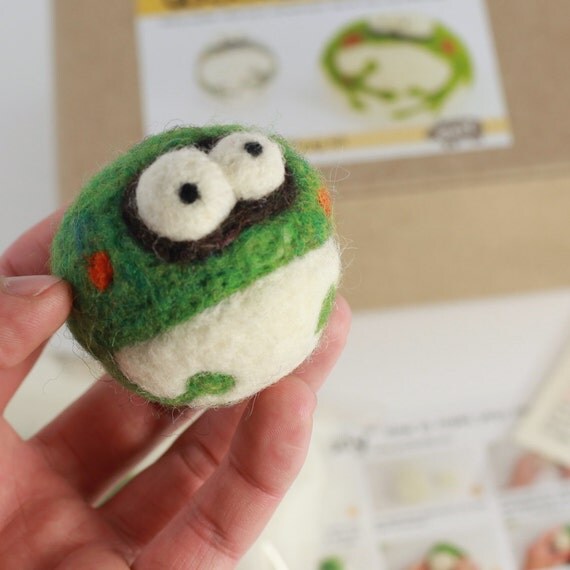 My next knitting projects
Of course, the start of the new year is the time to dream about projects! And, I'm totally into that!
My eyes right now are on rainbows, so I've got Stephen West's Spectra and Veera's Color Affection in my queue.


Right now, Color Affection is only available as a kit, but as soon as it's available as a lone pattern, I'm snagging it!
How about you?
Those are my goals… how about you? What are your 2012 knitting and crochet goals and plans?
That's what I've been up to! What have you been working on this week? Hope everyone has a happy Wednesday!
If you want to check out more Work-In-Progress posts, please check out Tami's Ami's Blog, who's been organizing a great WIP Wednesday blog theme! And, don't forget to come back for FO (Finished Object) Friday!